I can tell you where the wild things are. They're in my house! Two boys (three including my husband) and myself (I suppose most would tell you I am a wild thing as well). Today we threw a "Where the Wild Things Are" party for our sweet Josiah Salar who turned one last Tuesday. Oh, and we had some water slide/baby pool fun outside too, considering it's sweltering hot. Some of you follow me on Facebook/Instagram and saw that he puked up his smash cake on his birthday. I'm a bad mommy for buying him a cupcake from a place where I assumed the ingredients were organic. Either way, it was way too much sugar or gluten or something and baby boy was not feeling well for awhile afterwards. So for his party today, I spent over an hour making him a smash cake out of banana and applesauce. Surely he would love it right? Why don't you see for yourself…
I have to say…I did spend LOADS of time getting ready for this party. I scored some amazing deals on banners and such, but DIY can take so much time. It was worth it though. 1st birthdays are super special, after all. I think we have started a tradition of going all out for the first birthday.
My Mom makes the BEST cupcakes. I mean she is super talented. She always volunteers to make cupcakes for special events that we have and you can also hire her to make some for YOUR special events (shameless plug…because her cupcakes are seriously that amazing). She made these cupcakes look like one of the characters from the book. She also made a dozen gluten free cupcakes for our oldest son and friends with allergies. She's the best.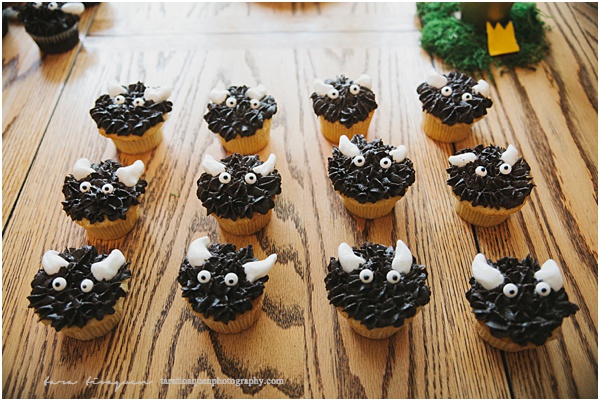 PINIMAGE


PINIMAGE


PINIMAGE


PINIMAGE


PINIMAGE


PINIMAGE
I know I said earlier that I am wild, or at least like to feel wild and free. I wore my "wild" pants for the occasion. LOVE my crazy wild pants, but not as much as the gorgeous babe in the photo with me. I could "eat him up I love him so". I made that crown by the way, it's totally easy to make and you can find the instructions HERE.
These were a DIY as well. "Oh please don't go! We'll eat you up we love you so". So cute, right?
Enter the infamous smash cake. You never know how a baby is going to react. I will say, though, I've only had ONE baby that I have photographed not like their smash cake.
WELP…he did NOT like it. Was not a fan. I can't decide if he is just traumatised from getting sick from the cake the other day or if he didn't think it tasted good. In fact, he was more interested in eating the moss around the cake than the cake itself. One of my witty friends said "Oh of COURSE he would…he is your child after all" (because I'm vegetarian). Ha! We even got desperate and added one of Mom's cupcakes on top, hoping he would smash into that one. Nope. Hard pass. He was just not into it.
Pool time! I'm so thankful that the weather turned out to be somewhat overcast and not too very hot by the time we all went outside. Micah was very excited to give his baby brother the birthday present he got him (beach toys).
Perhaps the best photo of the day. You see that hand on the right there? Yeah, us adults were like "NO SQUIRTING THE ADULTS!" The kiddos really enjoyed themselves and after all of our friends left Josiah decided it was time to skinny dip. I mean, why not? When you're one and it's your birthday you can do what you want!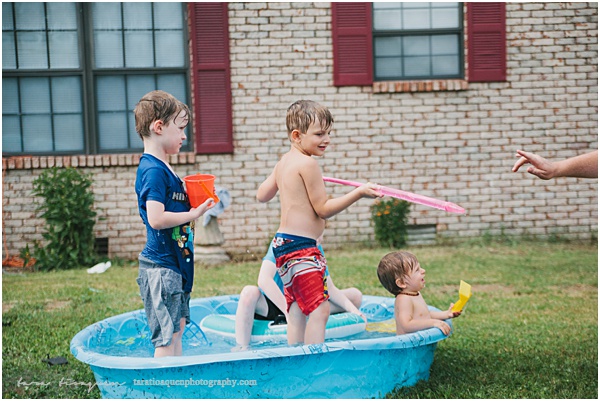 PINIMAGE


PINIMAGE


PINIMAGE


PINIMAGE


PINIMAGE


PINIMAGE


PINIMAGE


PINIMAGE


PINIMAGE


PINIMAGE
Time got away from us and we didn't open presents with everyone inside. However, Jojo was very happy to open his presents once inside. He loved the book his friend Eden got him as well as the swing Daddy got for him. Daddy built a swing set for Micah a few years ago and it will be a great addition so him and his brother can swing next to each other.  I'm sure he was somewhat happy about the small treasure chest I got for him (I did the same for Micah and we put important baby things in there for them to have when they're older). Oh, and another sign for their room (related to the song I wrote for them…"To the Moon"). Happy Birthday sweet Josiah Salar Tioaquen! We love you, wild thing!